Champaign, Illinois to Kearny, Nebraska is a few miles...and I ended up adding just a 'few' more miles for good measure. Ole Girl and I stopped for a bite to eat at the, Ainsworth "Four Corners" Restaurant/BP Station, located just a 'little' north of Mount Pleasant, Iowa. We were oblivious to the fact that we were headed the wrong way! In fact, we were headed due north towards Captain James T. Kirk's Future Birthplace in Riverside, Iowa!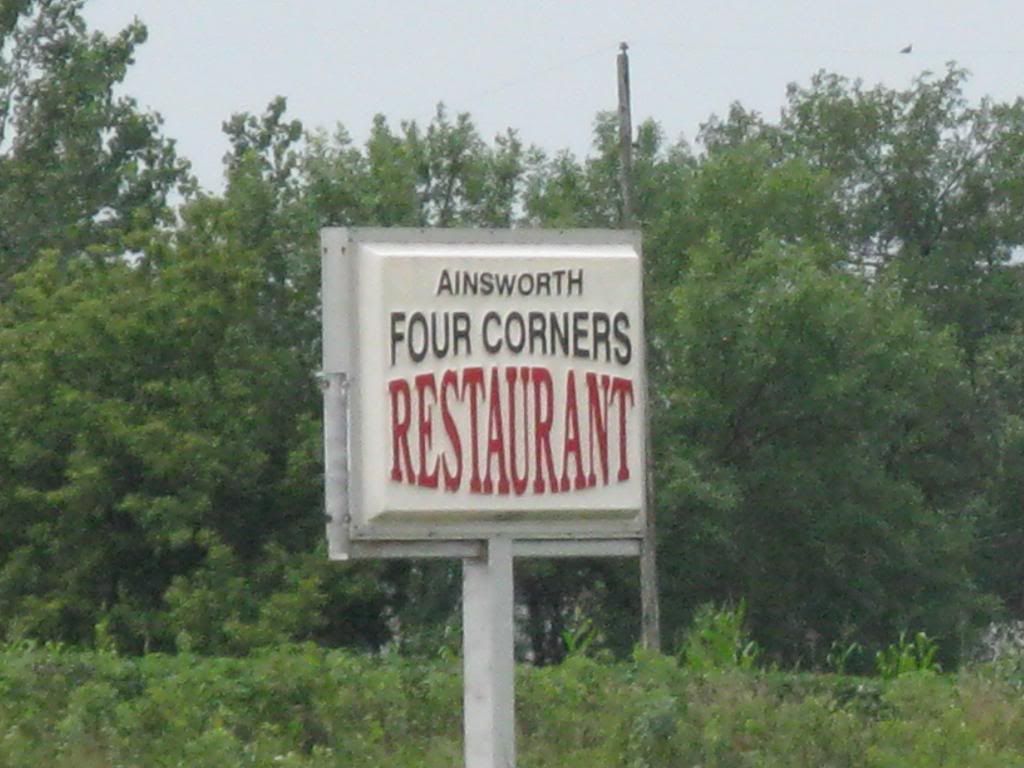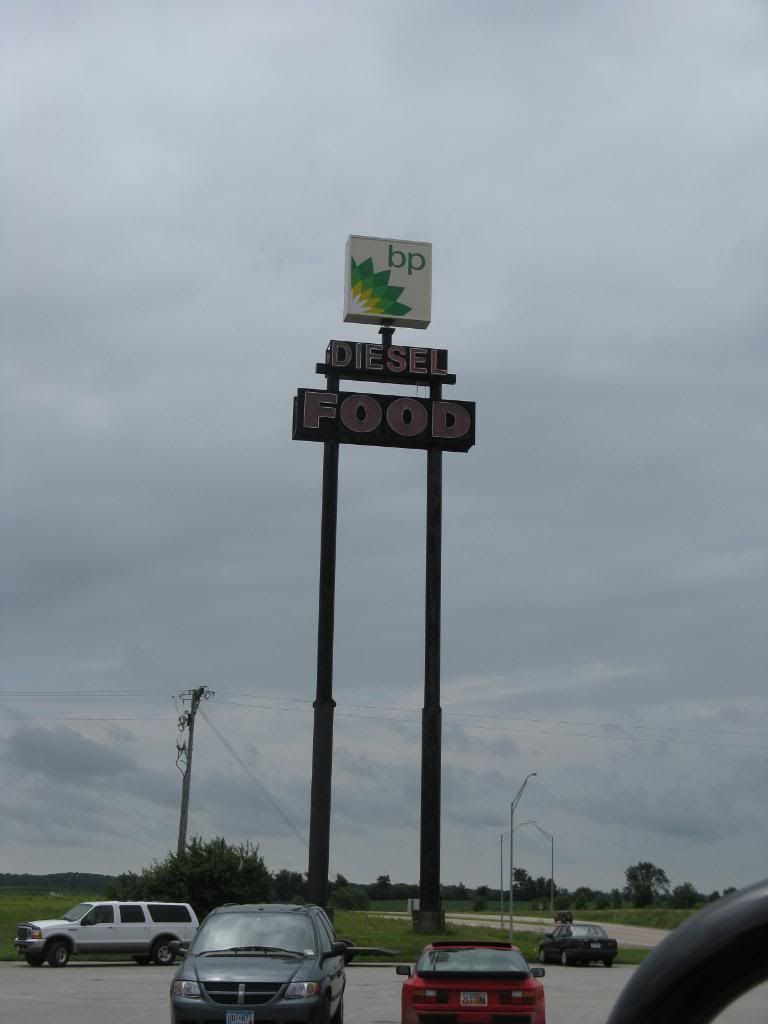 We rode past Riverside on Iowa 27/U.S. 218 and by the time we were on the outskirts of Iowa City, I knew that I missed the proper turn 48 miles ago...I did not want to ride Interstate 80 so we turned around, rode 25 miles back to Ainsworth and picked-up IA-92; IA-92 was a ROUGH ride for about 60 miles...'92 was not well maintained! Our day was quickly slipping into the west when Ole Girl and I reached Des Moines, the land of CoC. We slipped off the super-slab briefly for coffee and a map check.
Sitting on the edge of a parking block in the oil, anti-freeze, a.c. condensation, gum, heat,stained parking lot of some gas station; I intently studied my AAA Iowa map with Ole Girl next to me, peering over my head. The reality was this: 130 miles to Council Bluffs, Iowa followed by another 184 miles to Kearney, Nebraska...Dang it! Interstate traffic can be dicey, especially when the day is becoming longer for all of those families that have been in their car for hours and hours-Dad seething just wanting to get to 'there'; for all of those gear jockeys laying down those miles trying to 'make it' to 'there'; a perfect storm of sorts starts to develop, like a late afternoon, summer thunderstorm on the Plains. Ole Girl and I were just a small fish in the cauldron; getting out of Des Moines was not to bad and things even seemed to settle down the further west we rolled but that started to change. You see the folks not signalling their turns, not quite looking hard enough when the change lanes; you see their eyes stretched wide open with a manic Prednisone crazy look; the look of, "just-want-to-get-there-cause-I'm-tired-of-driving". We finally were able to make Council Bluffs with out getting clipped. Ole Girl and I settled for a quick Panera dinner and the daily call to the missus and baby-doll back home; I certainly would not have the time to call when I tied-up for the night at the Kearney Microtel! Re-charged, Ole Girl and I maneuvered back out onto the murder-slab that is Interstate 80. The slab out of Omaha was just plain crazy! A dozen lanes, 100 mph speed limit down to a couple of lanes...it just became insane! Tractor-trailers, mini-vans, Hybrids, motorcycles all trying to 'get there'. It was full on throttle twisting, gear-jamming, toe-toe, combat riding! A disgruntled gear-jockey seemingly was making it a game of blocking folks, including me, by speeding up-slowing down etc. The dude even had a crazy look, the 'I-have-had-enough-of-this' look. Ole Girl and I finally lost him somewhere out past Lincoln. Despite the flagrant stupidity of motorist, the sunset was shaping up to be priceless! The warm purple-plum-sedona red stratus clouds provided a three dimensional, natural mural, for my weary eyes to soak in. And then the colors slipped into the Nebraska night; two hours or so later, I was finally shutting down for the night; drained, I tied Ole Girl up, hauled my faithful canvas tour pack inside to the, frigid, low ceiling lobby of the Kearney Microtel. What a day!