I will let the pictures tell the story.
Back through the Teton Pass...
Into the park...
Ron and I enjoyed a soothing boat ride across Lake Jenny; the boat docked at the base of Cascade Creek. We strolled up Cascade Trail to Hidden Falls; the falls are in a draw between the Grand Teton Mountain (13,770') and The Jaw Mountain (11,430'); had we continued 'hiking' due west up and over the Teton Range, we would have ended up in Driggs, Idaho. We could see the mountains from our motel!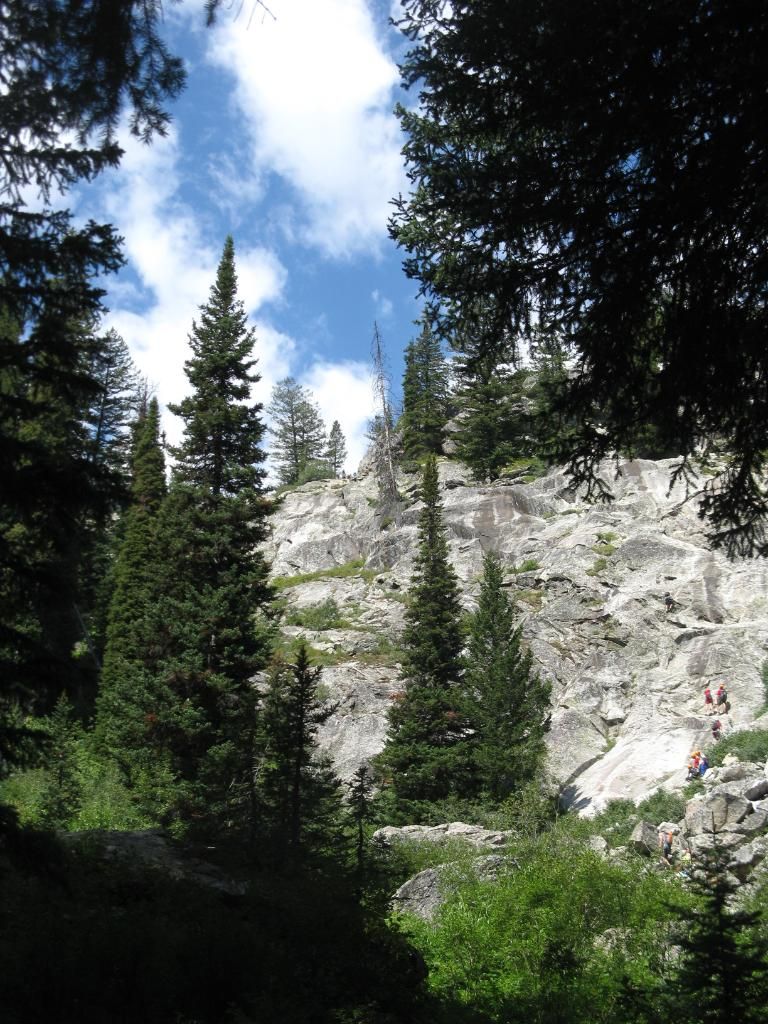 How about some rock climbing?
Heading back across Lake Jenny we saw the Teton Range from a different perspective...
Back on Terra firma, Ron and I enjoyed a nice ride on Teton Park Road. Very little traffic, plenty of warm sunshine, azure sky, great mountain scenery and rangers looking for a renegade bear running around Signal Mountain campground...When we reached US287 we turned right and right again at US191; US191 took us down to Moose Junction where the Teton Park visitors center is located. We spent some time checking out the visitor center before heading back to Idaho...
Our stop in Jackson was way to short for my liking...I could have spent a half if not a full day in Jackson!
I detected liquid sunshine and decided that wearing my Goretex jacket would be wise, especially since we would be traversing the Teton Pass where the weather could be a lot different at 9,000' vice 7,000'...
The heavens did not open up on us! Wet roads and limited visibility would not have been pleasurable! After arriving back in Driggs, Ron and I split up for a few hours; I wanted to explore the town some more and Ron wanted to clean his bike and hit the hot tub! More on my sight-seeing in the next post!